25 Free Spins & up to 750 euro bonus
The year 2012 is coming to an end and Christmas is just around the corner. It's the last two weeks of the year and that's something Klaver Casino is going to celebrate with you!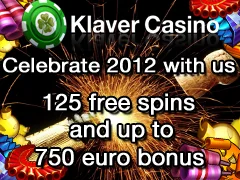 Celebrate 2012 with us!
We start celebrating from Monday the 17th of December until Tuesday the 1st of January 2013. On a daily basis our players will receive free spins on one of our amazing slot games and a fantastic deposit bonus. In total we will grant you with 125 free spins and a couple of deposit bonuses up to a total of 750 euro!
Monday the 17th of December you can start by spinning 25 times on our most played game of 2012 Starburst !
Stay in touch with our news portal, Facebook, Twitter or your mail to find out more on our free spins or deposit bonuses !
Free spins are only available for players that have made a deposit over the last three months and are from the one of the following countries: Netherlands, Belgium, UK, Ireland, Denmark, Sweden, Finland, Norway, Germany, Austria, Australia, New-Zealand, Switzerland.
You haven't played for real money yet? Now is your time to redeem your new players bonus with a 100% deposit bonus and 25 free spins on videoslot Starburst!