Cash Rewards At Goldbet Casino
The time is now to fully engage in the best promotional offers from the Goldbet Casino. Coming exclusively from Net Entertainment, several of the finest gaming products will introduce new features to follow.

Only in March you will be able to get even €500 in cash. As the sun starts to shine more often, there are going to appear more of the fantastic bonuses which the players may enjoy. Wagering about €999 will instantly grant you an extra €5 up to even €500, so keep looking for the spring break at Goldbet.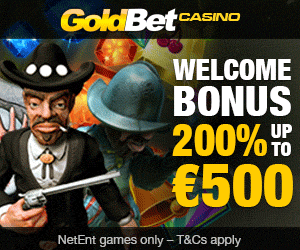 €500 Free Bonus Promotion
The games subjected to the aforementioned promotional program are Flowers, Fruit Case, Piggy Riches, Secret of the Stones. Do not hesitate any longer as you have only time to the end of this month, so make haste and join right now to get your own chance to play.
-The promotion starts at 00:00 (CET) on 11/03/2014 and ends at 23:59 (CET) on 31/03/2014.
-Only bets placed on Flowers, Fruit Case, Piggy Riches, Secret of the Stones contribute to reach the Bet levels required to award the Bonuses.
-For every €999 wagered Goldbet will award a bonus of €5. The total bonus amount a player can get is €500.
-As the player fulfills the €999 bonus requirement, the €5 bonus is issued to the player and the game balance will be automatically updated on his/her next action.