€100 000 Microgaming Slots Tournament
During this month only, the Crazy Vegas Casino will be hosting an insanely rewarding 100 000 Tournament. All the casino players are welcome to join and by playing The Argyle Open, many fabulous awards will follow. The total prize pool of this tournament equals to €100 000 and a single, lucky winner is going to get even €5000 as well. The best 50 players will be getting a fair share of the main prize, as by taking part in the competition between the 1st and 30th of September 2014, you too can take on the winning place.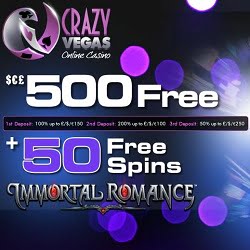 In order to participate in the tournament, a minimal fee of €10 will be required first, but right after that you are going to enjoy all the privileges of the eligible players. The games is a highly advanced piece of software and includes several interwoven features that only tip the scale even higher. With a highly appealing golf theme, the slot follows plenty of free spins, multipliers, scatters and wilds, so getting advantage of the rewards cannot be that difficult after all. Bonus rounds are also available, so go ahead and start your own gaming experience at this fabulous online casino.