Win Trip To Hawaii at PAF
Aloha! Hawaii calls in this year´s X-mas calendar

Behind every door in the X-mas calendar there are a lot of great prizes for the players to win.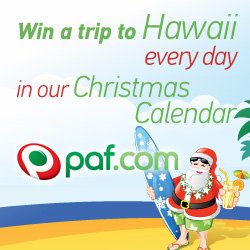 This mountain of Christmas gifts include computers, cameras, game consoles and cleaning robots. As if that shouldn't be enough PAF raffle out a trip to Hawaii for two, every day! And if you should have the misfortune of not winning anything of the above, their elves are also raffling out 10 Christmas gifts that contains 50 euro in bonus money each day.
To be able to compete for our desirable prizes you are required to respond to the question of the day which you will find behind each door in Paf's Christmas calendar. When you register your answer you are automatically in the running of the 3 great prizes for the day. You are also competing over 10 gifts containing 50 euro each in bonus money.
If you also want to be in the running of competing over our sunny trips to Hawaii's white beaches you need to play today's game at least once. This is however only available for players that enter the correct answer to today's question.
Visit PAF Casino
Related links: