Win your dream car for a weekend
BGO casino is giving everyone the chance to take part in thrilling Dream Car Giveaway promotion this month.
By simply claiming special reload bonuses in May you will receive 1 entry into an end of month prize draw, where one lucky player will get to own their dream car for a whole weekend.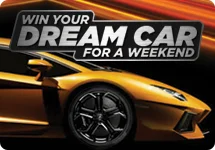 You can choose from a whole range of exotic cars, like the Ferrari 458, the Lamborghini Gallardo or even an Audi R8 Spyder. Whatever your preference, they're sure to have it covered!
To win this incredible prize, all you need to do is use the bonus code DREAMCAR at least twice during May. The code will only work on Thursdays and Sundays and not only will you instantly receive 25% in extra cash, you'll also get 1 entry into prize draw!
It's as simple as that! Be sure to claim your free cash and you could be driving away in your very own Ferrari at the end of the month!
Promotion code DREAMCAR must be used at least twice during May to qualify for prize draw.
Code only available for use on Thursdays and Sundays during May.
A 25% deposit bonus will be applied when the code is used. Maximum bonus of £250.
Any player who opts to revoke the bonus before completing any necessary wagering requirements will not receive an entry into the prize draw.
Winning player will be announced on Tuesday 4th June.
Maximum 9 entries available.
Winning player must meet minimum legal requirements for vehicle insurance as specified by the supplier. In the event the winning player does not meet the necessary requirements, a cash equivalent of £1,500 will be paid.