Over the next 4 weeks, Mr Green is bringing Dreams to life. Join to weekly themed Dreams and win many great prizes. Mr Green offering Ultimate Grand Prize – a 'Trip Around the World' or 'Jet Flight to the Edge of Space!' .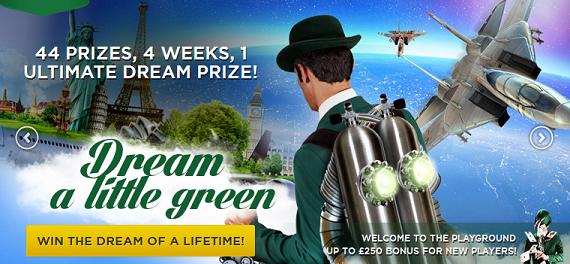 Dream a Little Green Week 1: Take an Adventure
VALID FOR: 13th January to the 19th January 2014
Dip your toe into the crystal clear waters surrounding Australia and dive the Great Barrier Reef. Then experience Sydney from a different angle as you tackle the Sydney Harbour Bridge Climb and see the famous Sydney Opera house from 134 meters above Sydney harbour!
Or
Experience the sights and sounds of the wild with an African Safari to the famous Kruger National Park in South Africa. This private game reserve holds some of the most majestic wild animals from Lions, Giraffe, Elephants and Rhino and you'll receive multiple treks to explore it all. The fun doesn't stop there as you will also experience the other side of life for 4 nights of 5-Star luxury!
Or
If the Great Barrier Reef or an African Safari is not your thing, you can also take £5,000 in Cash and create your own adventure!
Terms & Conditions
The Dream a little Green campaign will run from the 13th of January to the 9th of February 2014
The Dream a little Green campaign is divided into 4 weekly campaigns: Week1 – Adventure, Week 2 – Luxury, Week 3 – Entertainment and Week 4 – Indulgence
The Dream a little Green campaign also features a final grand prize for 1 winner who takes part in any or all of the individual weekly campaigns
In order to take part in the weekly campaigns, players MUST opt in by selecting the prize they would want to win for that week and entering their email address into the entrance box
Participants in the weekly campaigns will receive prize draw tickets for every £50 deposited during the active campaign week. This includes the cumulative total deposited per player, during the week
Prize tickets WILL NOT be transferable from week to week – For example, prize tickets earned in week 1 are only valid for the week 1 prize draw and do not carry over into the following weeks prize draws. Deposits during week 1 are valid for week 1, deposits during week 2 are valid for week 2 etc
Participants can earn as many prize draw tickets as they would like each week, every £50 deposited earns (1) one prize ticket. Example, a total deposit amount of £200 during the week, will earn the player (4) four prize draw tickets
Each week 11 winners will be drawn from those players who have earned prize draw tickets
Each week there are 10 runner up prizes and (1) one winner will win the grand prize for that week from the (3) three options
Winners will be posted on the Dream a little Green website and notified directly by phone and email.
The African safari trip is for 2 people (winner + 1 guest). Package includes: flights from Europe to Johannesburg, regional flights to Kruger national park, 3 nights in a private game reserve, multiple guided treks to see the animals, flights to Durban, 4 nights in a 5-star hotel in Durban, return flights to Europe.
The Dive to the Great Barrier Reef prize trip includes flights to Cairns in Queensland, Australia, all transfers, 5 nights hotel accommodation in Cairns, a diving experience for 2, flights and transfers to Sydney, 7 nights hotel stay in Sydney and a Sydney Harbour bridge climb experience for 2
All flights, transfers and dates for holiday prizes will be confirmed with the winning players.
The luxury spa prize includes a Serenity 5 home hot tub by hydropool and delivery to a single address. The prize does not include home installation.
The winner of the Rolex watch will either receive a Submariner mens watch or a white roman ladies watch (both subject to availability)
The winner of the Bang & Olufsen prize will receive a Bang & Olufsen Beoplay Beolab 18 speakers sound system
The Aston package includes meeting an Aston Martin professional driver at 9:30 at an Aston Martin dealership in Newport Pagnell. The winner and guest will then be driven to the Millbrook testing ground (not open to the public) to get a day's driving tuition in the latest Aston martin cars. The package also includes flights to London, Radisson Edwardian hotel accomodation, dinner at STK and private transfers to and from dealership
The Trip around the world is for 2 people – lasting for aproximatly 3 weeks, the package includes 4 city stops in New York, Los Angeles, Sydney and Bangkok. Flights, transfers, luxury hotel accomodation and spending money all included.
The Grand prize to the edge of space is a trip for 2 people to Russia to fly to the edge of space in a MIG 29, (only prize winner will take the MIG flight). Prize includes flights, Moscow stay, travel and accomodation in Nizny Novgorod, transfers to airforce base, training and flight experience and £1000 in spending money.
The Free Food and Cleaning for a year has a maximum value of £10,000. If the maximum value limit has been met before the year is complete, any further expenses are at the cost of the player. If the maximum value of £10,000 has not been met after a year, the player will not be paid out the remaining amount.
All cash prizes will be credited to the winning players Mr Green accounts
Posted on 14 January, 2014